What the Great Lakes Geek is reading
Geek Book
The Great Lakes Geek just finished reading Feynman's Tips on Physics: Reflections, Advise, Insights, Practice, A Problem-Solving Supplement to the Feynman Lectures on Physics
This is the first book that got 5 out of 5 Pocket Protectors on the Great Lakes Geek scale.
The Geek is biased, having studied math and physics but this book offers two terrific components.
First is the insights into the man Richard Feynman and how his classic lectures came about at Cal Tech.
Second is that 3 of the 4 included lectures are great courses in physics (and math) all by themselves.
Read the Great Lakes Geek review of Feynman's Tips on Physics

Top of Page

---
Virtual Presence Device
Geek Gadget
If you thing that Virtual Presence Devices are just for TV shows like the Big Bang (remember when Sheldon's VPD approached Steve Wozniak in the restaurant?) think again.
At the induction of the new officers for the Organization of Chinese American Cleveland Chapter on Saturday February 8, 2014 one of the officers could not be there. But Debbie Yue was able to attend and be sworn in via a VPD - basically a tablet on a rolling tripod with a Skype session loaded. It didn't move on its own (Johnny Wu pushed it) but it was still very cool.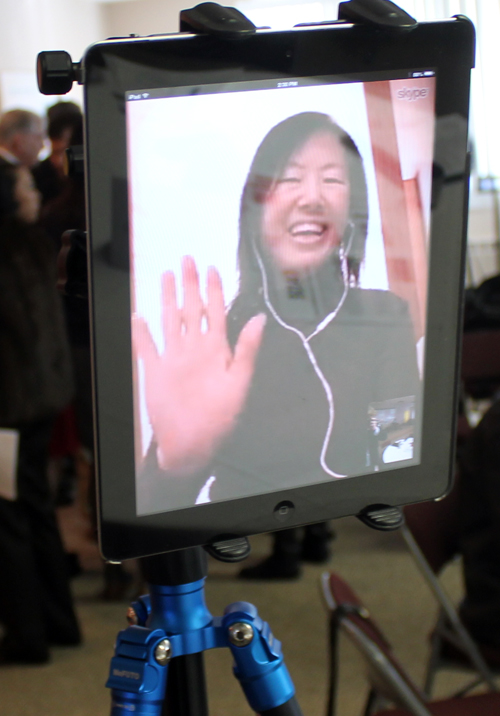 Debbie Yue on the VPD


---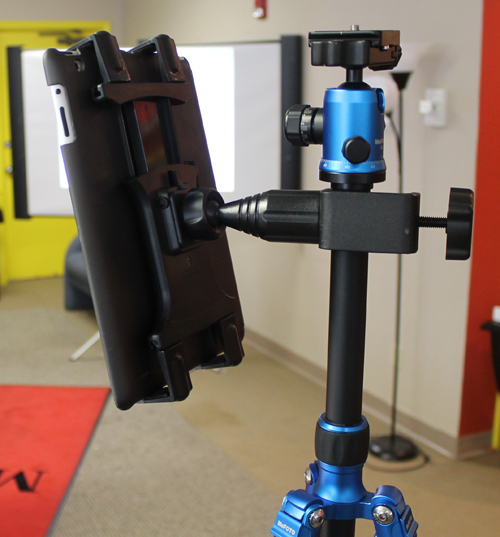 Side view of the VPD


---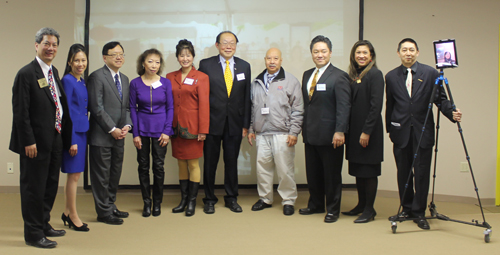 Real and virtual OCAGC board members


---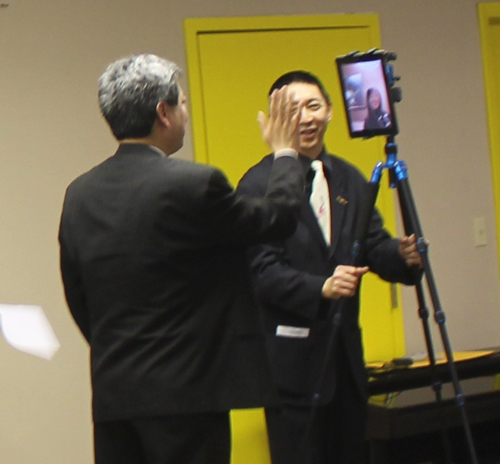 ---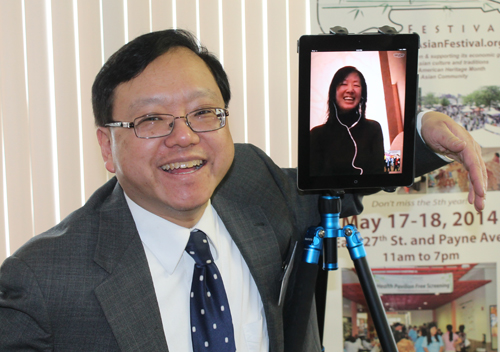 Real Harold Hom and Virtual Debbie Yue


---
Office InfoPath
Geek News
A Microsoft blog announced: "So how are we evolving our forms technology? In an effort to streamline our investments and deliver a more integrated Office forms user experience, we're retiring InfoPath and investing in new forms technology across SharePoint, Access, and Word. This means that InfoPath 2013 is the last release of the desktop client, and InfoPath Forms Services in SharePoint Server 2013 is the last release of InfoPath Forms Services. The InfoPath Forms Services technology within Office 365 will be maintained and it will function until further notice."
It goes on "If you're an InfoPath customer, we want to reassure you that we're working on migration guidance in parallel as we're building our next generation of forms technology. Until we have more detailed technology roadmap and guidance to share with you, we encourage you to continue using InfoPath tools. We also want to remind you that the InfoPath 2013 desktop client and InfoPath Forms Services for SharePoint Server 2013 will continue to be supported through 2023 as part of our Lifecycle support policy."
---
What a Deal
Geek Humor
Best Buy has the Microsoft - Surface Pro with 128GB Memory on sale on their website.

Hhhm. Let's go for the much more expensive refurb. Not!
Actually, the Great Lakes Geek advises against the Surface Pro 1. It is discontinued and inferior to the Surface 2. Save your money for that.


---
It's been a long winter already
Geek Humor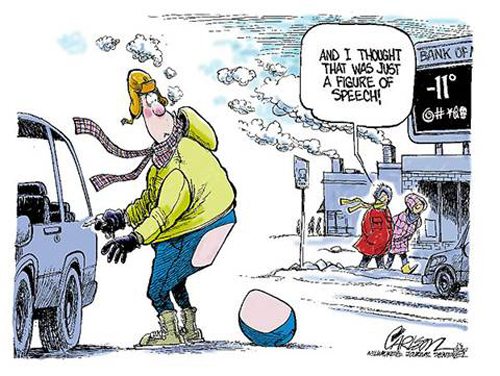 ---
Name that Voice
Geek Fun
Many people name the voice on their GPS or other device. Not just Siri. My sister has called her GPS voice 'Chloe' for years in tribute to the tech star assistant to Jack Bauer in the series '24'
Some Magellan users call theirs Maggie and Tom-Tom is easy if you use the male voice setting. I've also heard Gypsy for GPS.
Do you have a name for your voice? Let us know.

Kevin Goodman of BlueBridge Networks calls his KG-B.
Sharon Plona Jesse calls hers Jenny as in Jenny Jenny who can I turn to.
---
Frozen Windows
Geek Joke
During the recent cold snap, a wife texted her husband: "Windows frozen, won't open. What do I do?"

Husband texts back: "Gently pour some lukewarm water over it."

Wife texts husband back 5 minutes later: "Computer really screwed up now..."

Top of Page

---
Cleveland Mayor Frank G. Jackson Inauguration
Geek Event
Despite the historic low temperatures, the Rotunda of City Hall was full of well wishers as Cleveland Mayor Frank G. Jackson took the oath of office for the 3rd time on Monday morning January 6, 2014.
Read a transcript of the Inaugural Address and see photos from the event.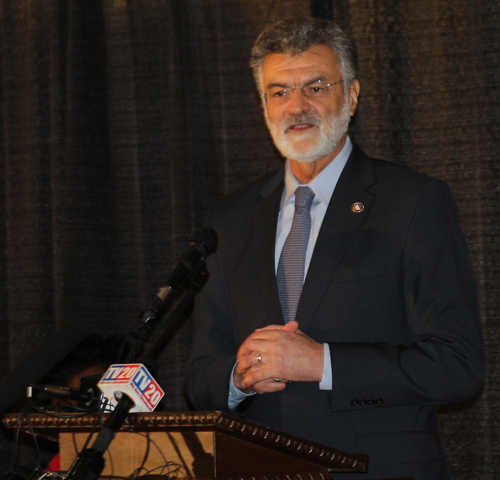 Cleveland Mayor Frank G. Jackson
---
Bill Gates Book List
Geek Reads
Several of you asked about the Bill Gates recommended reading list from Wired Magazine that was referenced below.
What I found interesting is that when I went to Amazon to order Feynman's Tips on Physics I noticed the section that Amazon calls "People who bought his book also bought…"
I expected to see other Physics books but what I saw was books from Gates' reading list such as Tap Dancing to Work and other books that had nothing to do with Physics. So obviously the Great Lakes Geek is not alone in trying to read what Bill Gates reads.
Here is the list that Bill Gates titled "Here Are the Books I Read When Out on the Road"
Feynman's Tips on Physics - A short companion book to Richard Feynman's classic Lectures on Physics. Always worthwhile to return to the feet of the master.

The Cartoon Introduction to Statistics - Bought this to use with one of my kids. Helpful in explaining a complicated subject to a teenager.

Super Sad True Love Story: A Novel - I don't read a lot of fiction, but I thought this was an interesting study of the moral implications of technology. Will technology contribute to everyone's well-being or just make people more narcissistic?

The Great Courses (DVD) - I left college early, but I'm probably the world's biggest consumer of academic courses online and on disc. Lately I've been enjoying Understanding the Secrets of Human Perception and Oceanography: Exploring Earth's Final Wilderness. Neil deGrasse Tyson's lectures on astrophysics, My Favorite Universe, are also really compelling.

The World Until Yesterday: What Can We Learn From Traditional Societies? - I'm a big Jared Diamond fan; I invited people to read this with me last summer.

Tap Dancing to Work: Warren Buffet on Practically Everything - Any compilation of Warren Buffett's wisdom should be kept close at all times. Financial journalist Carol Loomis gathers some of his best here.

The Path Between the Seas: The Creation of the Panama Canal - I read this to prepare for a family vacation to Panama. It's pure McCullough: epic drama, political intrigue, heartbreaking defeats, and eventual triumph.

The Better Angels of Our Nature: Why Violence Has Declined - One of the most important books I've read. Steven Pinker demonstrates how the world evolved to be far less violent. Counterintuitive, if you watch the news, but true.
---
Microsoft System Center
Geek Freebie
The second title in the new series of free ebooks from Microsoft Press on System Center 2012 is now available. Microsoft System Center: Configuration Manager Field Experience provides Configuration Manager administrators with helpful and tested real-world guidance from consultants and product experts at Microsoft.
The target audience for this book is administrators who have at least three years experienced working with previous versions of Configuration Manager and who have begun deploying and using Configuration Manager 2012 in their environment.
Download a pdf of the eBook for free
---
Geek Domain Names
Order Domain Names, e-mail accounts, web hosting, SSL certs and the usual menu of Internet items for great prices at Great Lakes Geek Domains. Follow the link at the bottom of the nav bar (under search) or click to visit
---
Certified Partner News
Magnum News
We are proud to be Kroll Ontrack® Data Recovery Certified Partners.
This allows us to offer clients the best-of-breed products and services that Kroll Ontrack provides to recover your lost data.
NOTE: Tampering with media information may result in irreversible damage. Contact us right away when you have data loss to maximize the chances to recover your data.

Top of Page
---
Desktops, Servers and Notebooks - Oh My!
Geek Store
Need new hardware? Why pay extra for those expensive name brands?
Check out our on-line hardware store and browse pre-configured systems or tweak the configuration options yourself and get instant pricing.
We'll ship the custom built system right to your door. Take a look at the Magnum Computers Webstore
Top of Page
---