Geek Halloween Logic

Gotta love a Venn Diagram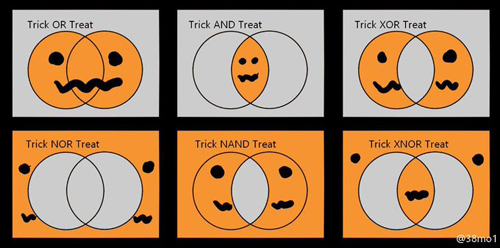 Top of Page
---
Geek Honor

Proud to have my book, Murder in the Cultural Gardens, in Mac's Backs on Coventry. #SupportLocalBusiness.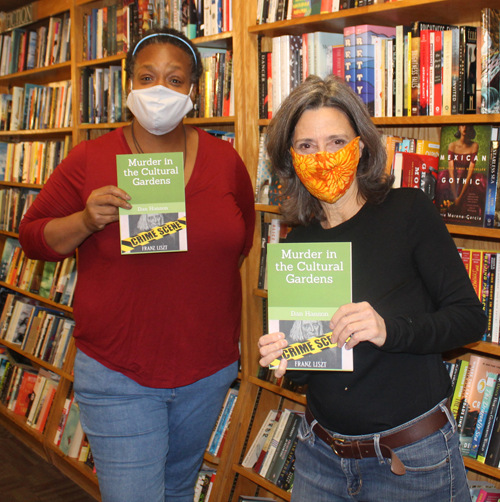 Top of Page
---
Geek Joke

Due to the pandemic, my boss ordered me to turn off TCP/IP and only use UDP.
Handshakes are no longer allowed.
Ba da dum!

Top of Page


---
Kaprekar's constant

6174 is known as Kaprekar's constant after the Indian mathematician D. R. Kaprekar. This number is notable for the following property:
Take any four-digit number, using at least two different digits. (Leading zeros are allowed.)
Arrange the digits in descending and then in ascending order to get two four-digit numbers, adding leading zeros if necessary.
Subtract the smaller number from the bigger number.
Go back to step 2
The above process, known as Kaprekar's routine, will always reach its fixed point, 6174, in at most 7 iterations. Once 6174 is reached, the process will continue yielding 7641 - 1467 = 6174.
The only four-digit numbers for which Kaprekar's routine does not reach 6174 are repdigits such as 1111, which give the result 0000 after a single iteration. All other four-digit numbers eventually reach 6174 if leading zeros are used to keep the number of digits at 4.

Top of Page


---
Blast from the Past
Geek Memory
Found this great shot of Bob Coppedge, the late Jim Evans, Peter Norton and me (Dan Hanson) from a COMDEX in Las Vegas a loooong time ago.
Great Memories.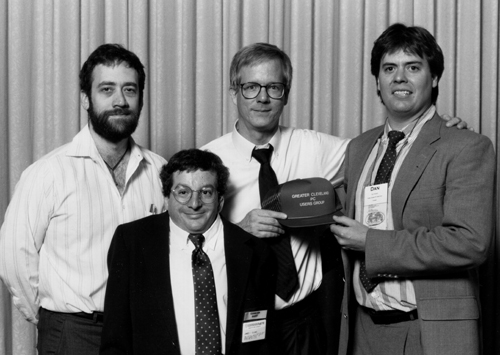 Bob Coppedge, Jim Evans, Peter Norton
and Dan Hanson at Comdex in Las Vegas
---
Fun with Maps
Geek Fun with Maps
Like millions of others we are fans of the Big Bang Theory and especially Sheldon Cooper. We even liked his Fun with Flags videos. Seriously. We have also been a longtime fan of maps and the role they play in a region's history, commerce, politics, culture and so on.

So we started a new video podcast series called Fun with Maps. Watch the intro video.

I take a look at maps of countries, states, cities and other regions and explain the geography of the area and how that plays a role in its culture and history. Three videos are posted right now.

Fun with Maps - The Horn of Africa

Take a look at the Horn of Africa which consists of Ethiopia, Eritrea, Djibouti and Somalia. The close proximity to the Arabian Peninsula and the extended coastline of the peninsula have influenced the politics, commerce and culture of the region. Hear a story that connects a popular Beatles song and a famous fossil millions of years old.

Watch Fun with Maps - The Horn of Africa
---
Fun with Maps - The Nile River
The Nile River is the longest river in the world. (Sorry, Amazon) The Nile River and Egypt are intertwined but the Nile travels through almost a dozen countries in Africa including Sudan where the White Nile and Blue Nile merge. And, there is a surprising fact about the Nile that makes it unique.
Watch Fun with Maps - The Nile River
Fun with Maps - Finland
---
The Nordic country of Finland is one of the most northern countries in the world. Some say the map of Finland looks like a whale, some say a rabbit. What do you think? While the south and capital Helsinki have most of the people, the northern Lapland has unique features including a very special inhabitant. Finland is famous for Linus Torvalds and Linux, Nokia, Angry Birds and my favorite word in any foreign language - sisu.
---
Stay Home, Stay Well, Stay Busy
Geek Stuff To Do
We are assembling a list of online resources you can try while you are homebound. Take a look.
Local Restaurant Takeout and Food Delivery Suggestions

Cleveland Metroparks Zoo has virtual classrooms

Rock and Roll Hall of Fame free learning

Cleveland Metropolitan School District has learning resources

Day by Day Projects to keep kids reading, thinking and growing

Cleveland Orchestra online learning

Cleveland Orchestra Teacher Workshops

20 virtual field trips that you can take with your kids

Math Card Games

Cleveland Museum of Art resources

Cleveland Institute of Music concerts

The 75 Best Virtual Museum Tours Around the World

Shaker Lakes Junior Naturalist Activities

Daily Mass online from the Catholic Diocese

Learn or brush up on 40 different languages (including Latin, Navajo and Klingon!)

Cleveland Museum of Natural History new digital series, CMNH@HOME

Virtual Tours of 12 Famous Museums

Cleveland Opera Theater - Opera For All Online

Cleveland Hungarian Museum Virtual Exhibits

Learn to Code, Build Projects, Earn Certifications

Entertaining Math Videos

Web Development Crash Courses

Learn multiple languages from videos from Polyglot Pablo

More multiple languages from Eko Languages videos

Learn a language with free podcasts from CoffeeBreak Languages

Crash Courses on a variety of AP high school curriculum topics

Khan Academy - free, world-class education for anyone, anywhere

1,500 Free Online Courses from Top Universities

Access 2500+ Online Courses from 140 Top Institutions.

Alison Free online courses from the world's leading experts.

Stanford University Online Courses

MIT OpenCourseWare is a web-based publication of virtually all MIT course content

Learn to Code with CodeAcademy

TED-Ed@Home - Online learning based on TED Talks

Nation Geographic learning for Kids


---
Told You So
Geek Math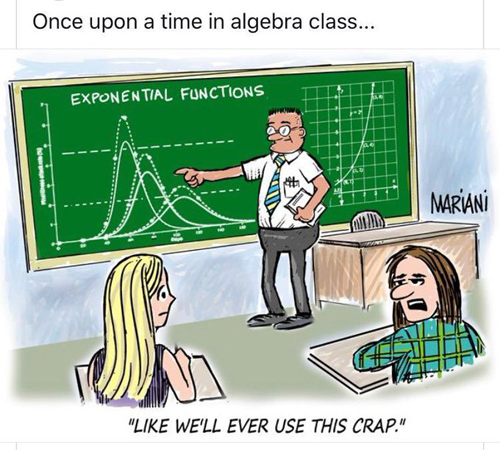 ---
Murder in the Cultural Gardens
Geek Whodunit
"It just didn't seem right to DJ. A body found bludgeoned in a place known for "Peace through Mutual Understanding." But there she was, crumpled behind a bust of composer Franz Liszt in the Hungarian Cultural Garden. He pulled out his cell phone and dialed 911. "What is the nature of your emergency?" the dispatcher queried. With a suddenly very dry mouth DJ managed to get out, "There's been a murder in the Cultural Gardens."
That's the beginning of the recently published first novel by Dan Hanson.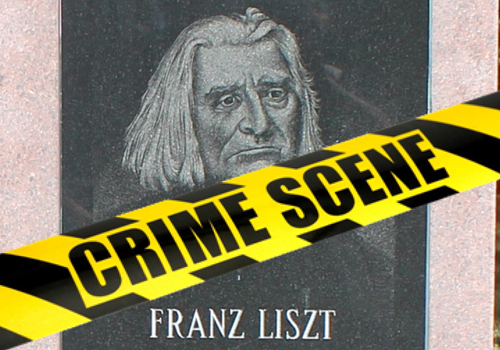 The whodunit, titled Murder in the Cultural Gardens, takes place in the Cleveland Cultural Gardens and all 30+ gardens are featured during the mystery. You may even recognize some of the characters.



Click the link above to learn more or to purchase in paperback or Kindle version from Amazon. Or contact Dan via the Murder in the Cultural Gardens webpage to have a signed book delivered.


---
Annual Magnum Holiday Lunch
Geek Event
Each year we like to gather an eclectic group of friends and business associates for a holiday lunch. No, it's not just techies. Media, non-profits, politicians, business, cultural - they were all represented.
The food and atmosphere at Bo Loong at 38th and St. Clair is always terrific and our 75 guests maxed out the party room.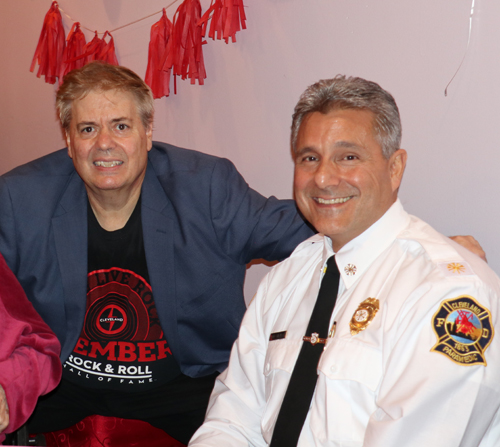 Dan Hanson and Cleveland Fire Department Chief Angelo Calvillo


---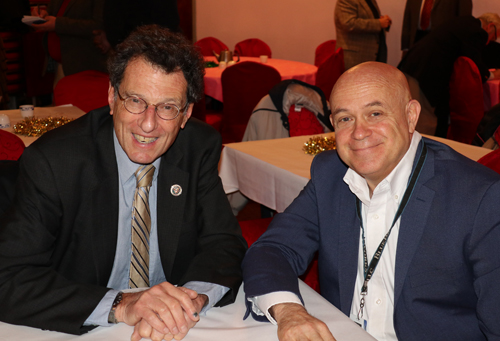 Judge Dan Polster and Kevin Goodman


---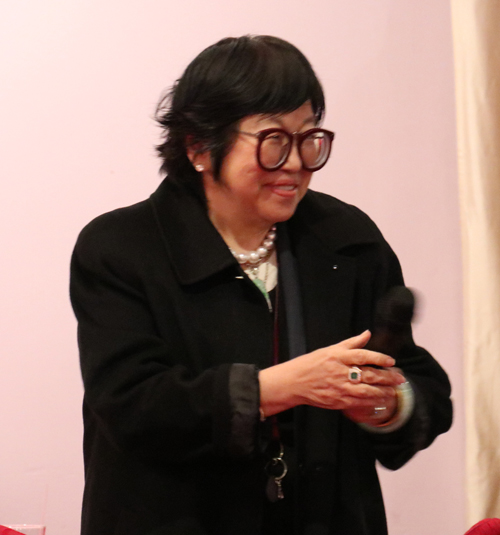 Margaret Wong




See how to get invited next year, who was there and view
Photos from the 2019 Magnum Party


---
4.5 megabytes of data
Geek Time Travel
Here's what 4.5 megabytes of data in 62,500 punched cards looked like in 1955. Today, of course, one photo on a cell phone can use this much data.
Herman Hollerith invented punch card computing for use in the 1890 census, and that same card program existed with minor tweaks throughout the mid-20th century. The Great Lakes Geek recalls dropping off stacks of punch cards and hoping they were in the right order and no errors.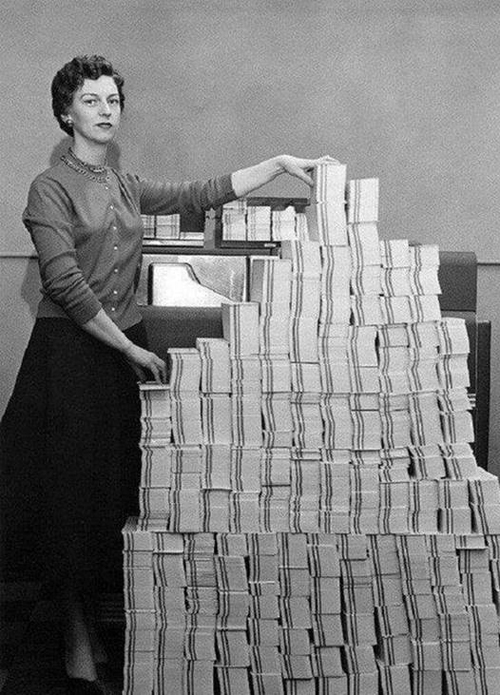 4.5 megabytes of data
---
Eudora Source Code
Geek News
According to GlobalNewsWire, Computer History Museum (CHM), the world's leading institution exploring the history of computing and its impact on the human experience, today announced the public release and long-term preservation of the Eudora source code, one of the early successful email clients, as part of its Center for Software History's Historical Source Code. The release comes after a five-year negotiation with Qualcomm.
The first version of Eudora was created in the 1980s by Steve Dorner who was working at the University of Illinois at Urbana-Champaign. It took Dorner over a year to create the first version of Eudora, which had 50,000 lines of C code and ran only on the Apple Macintosh. In 1991, Qualcomm licensed Eudora from the University of Illinois and distributed it free of charge. Qualcomm later released Eudora as a consumer product in 1993, and it quickly gained popularity. Available both for the IBM PC and the Apple Macintosh, in its heyday Eudora had tens of millions of users.
After 15 years, in 2006, Qualcomm decided that Eudora was no longer consistent with their other major project lines, and they stopped development. "In my opinion it was the finest email client ever written, and it has yet to be surpassed. I still use it today, but, alas, the last version of Eudora was released in 2006," said Len Shustek, chairman of the Museum's Board of Trustees. "With thanks to Qualcomm, we are pleased to release the Eudora source code for its historical interest."
The discussion with Qualcomm for the release of the Eudora source code by the company's museum took five years. Qualcomm has transferred ownership of the code, the Eudora trademarks, copyrights, and the Eudora domain names to the Computer History Museum. The transfer agreement allows CHM to publish the code under the very liberal BSD open source license, which means that anyone can use it for either personal or commercial purposes.
Download options and more information about the source code


---
What the Great Lakes Geek is reading
Geek Book
The Great Lakes Geek just finished reading (listening to actually) Make Your Bed - Little things that can change your life by Admiral William H. McRaven (US Navy Retired)
On May 17, 2014, Admiral William H. McRaven addressed the graduating class of the University of Texas at Austin on their Commencement day. Taking inspiration from the university's slogan, "What starts here changes the world," he shared the ten principles he learned during Navy Seal training that helped him overcome challenges not only in his training and long Naval career, but also throughout his life; and he explained how anyone can use these basic lessons to change themselves-and the world-for the better.
Read the book review of Make Your Bed

Top of Page

---
Bob and Dan's Adventure to the PC Graveyard
Geek Blast from the Past
Computer techies (OK, geeks) Bob Coppedge and Dan Hanson used to take groups to various places of interest to computer professionals (OK, other geeks). They called it Bob and Dan's Excellent Adventures.
This video from 2004 was just unearthed from some old DVDs. This was a different adventure as Bob and Dan visited a cemetery and visited the graves of some old technology - from dBase to Win 95 before facing their own demise.
Watch it if you dare.
Top of Page
---
Pi in the Mirror
Cool Geek Stuff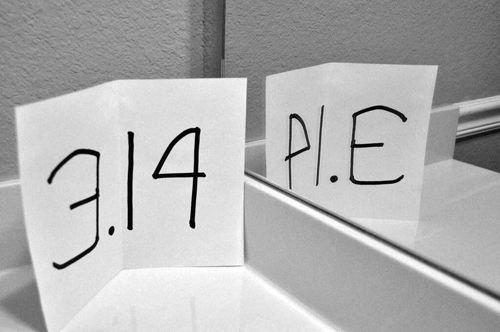 ---
How 3D Printing is Revolutionizing the Operating Room
Geek Medicine
One Impact Session that caught the eye of the Great Lakes Geek was titled 'Made-to-Order Surgery: How 3D Printing is Revolutionizing the Operating Room.' featuring Moderator David Cassak, Managing Partner, Innovation in Medtech LLC and panelists Jihad Kaouk, MD, Institute Vice Chair for Surgical Innovations and Director, Center for Laparoscopic & Robotic Surgery, Glickman Urological & Kidney Institute, Cleveland Clinic, Karl West, Director, Medical Device Solutions, Cleveland Clinic, Jacques Zaneveld, PhD, CEO, Lazarus 3D Printing and Nizar Zein, MD, Chair, Global Patient Services, Cleveland Clinic.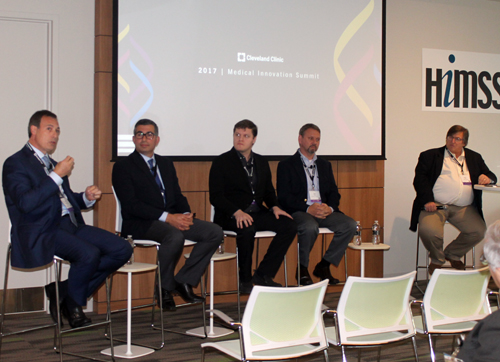 Dr. Nizar Zein, Dr. Jihad Kaouk, Jacques Zaneveld,
Karl West and David Cassak
See videos and more from the 3D Printing for surgery session
Top of Page
---
How Big Ben keeps time
Geek Mechanics
Top of Page
---
RIP Maryam Mirzakhani
Geek News
Maryam Mirzakhani was an Iranian mathematician and a professor of mathematics at Stanford University. Her research topics include Teichmüller theory, hyperbolic geometry, ergodic theory, and symplectic geometry. In 2014, Mirzakhani became both the first woman and the first Iranian honored with the Fields Medal, the most prestigious award in mathematics. The award committee cited her work in "the dynamics and geometry of Riemann surfaces and their moduli spaces".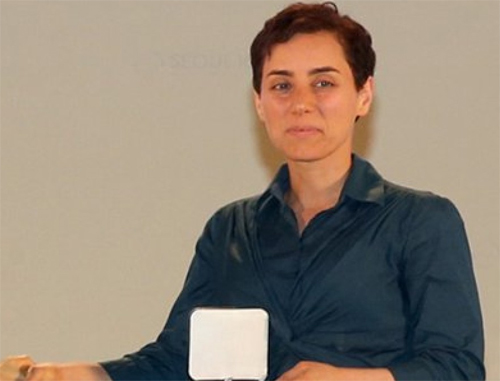 Maryam Mirzakhani



Mirzakhani died from breast cancer on July 14, 2017 at the age of 40.

Top of Page


---
It's Baaaaack
Geek eNews
By popular demand (really, would we lie to you?) the Great Lakes Geek is bringing back the free Geek eNews. It will be sent via e-mail whenever we have something really good to share. Not too often, we promise.
So sign up and look for the news, tips, puzzles, contests, special offers and other information that only the Great Lakes Geek can bring you.
Great Lakes Geek free eNews Signup Form

Top of Page


---
Write your own OS
Geek Software
The Great Lakes Geek thinks that programmers of his generation (harrumph!) are better because they didn't have all the visual tools. In fact the best learning experience, in his not so humble opinion, is writing directly to the processor, without an operating system.
A great learning tool is writing you own OS in assembler. There is a free online course from the Cambridge Computer Laboratory that teaches you how to write your own operating system using assembly code.
Give it a try you young whippersnappers

Top of Page


---
Books with a Cleveland focus
Geek Contest
Congratulations to the winners of some terrific new Cleveland focused books.
Winners have been notified and books were taken to the post office for delivery.
The books that were won were:
Let's Have Another by Dan Coughlin

The Ashtabula Hat Trick: A Milan Jacovich Mystery by Les Roberts

The Making of Major League: A Juuuust a Bit Inside Look at the Classic Baseball Comedy

The Bone Lady: Life Lessons Learned as One of Football's Ultimate Fans

Cleveland TV Tales Volume 2: More Stories from the Golden Age of Local Television
See more about the books
Top of Page
---
Progress
Geek Report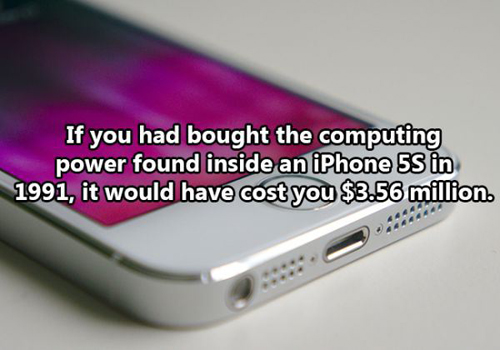 Top of Page
---
Tech Timeline
Geek History
The Great Lakes Geek has been working on a Tech Timeline of important dates in the region's tech history.
For example, Cindy and Jim Cookinham started a publication in late 1981 called IPCO INFO. It was the first publication for the IBM PC.
On May 19, 1997 programmer John Hill started Aztek.
And so on.
So if you have a milestone that should be added to the Tech Timeline, let us know.
---
--> -->
Bill Gates Book List
Geek Reads
Several of you asked about the Bill Gates recommended reading list from Wired Magazine that was referenced below.
What I found interesting is that when I went to Amazon to order Feynman's Tips on Physics I noticed the section that Amazon calls "People who bought his book also bought…"
I expected to see other Physics books but what I saw was books from Gates' reading list such as Tap Dancing to Work and other books that had nothing to do with Physics. So obviously the Great Lakes Geek is not alone in trying to read what Bill Gates reads.
Here is the list that Bill Gates titled "Here Are the Books I Read When Out on the Road"
Feynman's Tips on Physics - A short companion book to Richard Feynman's classic Lectures on Physics. Always worthwhile to return to the feet of the master.

The Cartoon Introduction to Statistics - Bought this to use with one of my kids. Helpful in explaining a complicated subject to a teenager.

Super Sad True Love Story: A Novel - I don't read a lot of fiction, but I thought this was an interesting study of the moral implications of technology. Will technology contribute to everyone's well-being or just make people more narcissistic?

The Great Courses (DVD) - I left college early, but I'm probably the world's biggest consumer of academic courses online and on disc. Lately I've been enjoying Understanding the Secrets of Human Perception and Oceanography: Exploring Earth's Final Wilderness. Neil deGrasse Tyson's lectures on astrophysics, My Favorite Universe, are also really compelling.

The World Until Yesterday: What Can We Learn From Traditional Societies? - I'm a big Jared Diamond fan; I invited people to read this with me last summer.

Tap Dancing to Work: Warren Buffet on Practically Everything - Any compilation of Warren Buffett's wisdom should be kept close at all times. Financial journalist Carol Loomis gathers some of his best here.

The Path Between the Seas: The Creation of the Panama Canal - I read this to prepare for a family vacation to Panama. It's pure McCullough: epic drama, political intrigue, heartbreaking defeats, and eventual triumph.

The Better Angels of Our Nature: Why Violence Has Declined - One of the most important books I've read. Steven Pinker demonstrates how the world evolved to be far less violent. Counterintuitive, if you watch the news, but true.
---
Windows Phone 8
Geek Freebie
Paul Thurrott's Windows Phone 8 is now available - for free.
Thurrot said, "Available for free as a gift to the Windows Phone community, the book is also my first major foray into self-publishing, and while it's only currently available in PDF format, I'll be updating it soon with more information and publishing in various major e-book formats, including Kindle."
---
---
Geek Domain Names
Order Domain Names, e-mail accounts, web hosting, SSL certs and the usual menu of Internet items for great prices at Great Lakes Geek Domains. Follow the link at the bottom of the nav bar (under search) or click to visit
---
Certified Partner News
Magnum News
We are proud to be Kroll Ontrack® Data Recovery Certified Partners.
This allows us to offer clients the best-of-breed products and services that Kroll Ontrack provides to recover your lost data.
NOTE: Tampering with media information may result in irreversible damage. Contact us right away when you have data loss to maximize the chances to recover your data.

Top of Page
---
Desktops, Servers and Notebooks - Oh My!
Geek Store
Need new hardware? Why pay extra for those expensive name brands?
Check out our on-line hardware store and browse pre-configured systems or tweak the configuration options yourself and get instant pricing.
We'll ship the custom built system right to your door. Take a look at the Magnum Computers Webstore
Top of Page
---